Eco-Responsabilitility
For several years, the Medoc Marathon has been carrying out numerous actions to make this race an eco-responsible event.
Here is a non-exhaustive list of our actions:
COMMITMENT #1: 50% MINIMUM RESPONSIBLE EATING

A healthy and diversified diet offer

Pre-race meals are mainly composed of pasta with vegetables and protein (meat or fish depending on the year)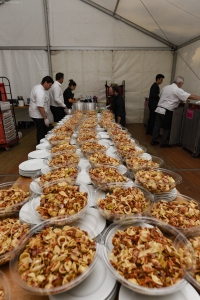 We favour a local, regional supply, then expanded to the nearby territories

Procurement related to the INTERMARCHE brand with a regional base in the South-West region
Biscuit LU: Factory located in Cestas near Bordeaux
MIRA Beer: Brewer located on the Bassin d'Arcachon
Oysters from Bassin d'Arcachon
COMMITMENT #2: ENCOURAGING PUBLIC TRANSPORTATION AND CAR-SHARING

Incentive to use the buses of the Nouvelle Aquitaine Region and the SNCF trains from Bordeaux on our various communication media (website, newsletter)
Incentive to give preference to accommodation on the Medoc area to limit transport: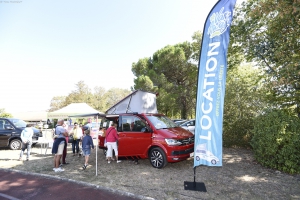 COMMITMENT #3: PURCHASES BASED ON THE SELECTION CRITERIA "CORPORATE SOCIAL RESPONSIBILITY"

Priority to European suppliers for our purchases.

Long-term relationships of trust have been established with our partners for years.

Willingness to build long-term partnerships with our suppliers so that the relationship is a win-win.
COMMITMENT #4: WASTE REDUCTION AND RECOVERY AND/OR RECYCLING OF WASTE

WILL TO REDUCE OUR WASTE

Communication :

100% of our newsletters are sent electronically
We favour social networks and emails to communicate with our audience

Single use tableware :

Removal of disposable plastic cups along the way replaced by recyclable bottles with snapclick cap (cap attached to the bottle) and biodegradable cups
Plastic bottles from "Cristaline", partner of the Medoc Marathon, which has been committed for several years to an eco-responsible approach, notably using a minimum of 20% recycled polyethylene terephthalate (rPET) from old recycled bottles.
Removal of plastic cups at snack bars and final refreshment replaced by reusable cups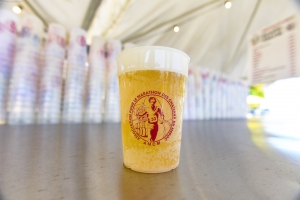 Use of compostable dishes on snack bars and refreshments
DESIRE TO SORT OUR WASTE ON THE ROUTE AND ON THE VARIOUS SITES OF THE EVENT

Implementation of a specific report for waste sorting on all the waste bins of the event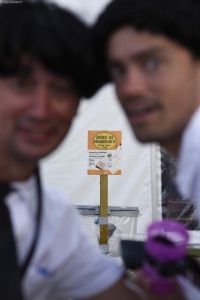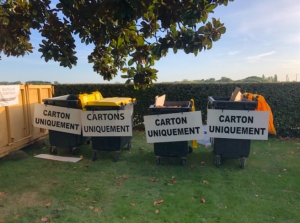 RACE ROUTE :

Recycling of water bottles used on the route via waste nets

Each supply team has the mission of sorting 100% of the waste in its refreshment zone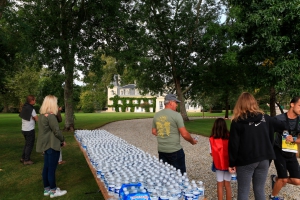 STARTING & FINISH LINE AREA, SNACK BARS + VARIOUS MEALS

Presence of a Green Brigade on all the venues of the event to raise awareness and brief the teams of volunteers on waste sorting
Effective collaboration with volunteer teams and caterers to optimize waste sorting at event meals
Cleaning of the Pauillac docks throughout the day by a specific team
Already some encouraging results :

50% of our waste is reused, recycled or recovered
Recovery of food scraps and compostable waste: +52% between 2018 and 2019
Sharp decrease in residual waste over the past 3 years: -22% in 2018 and – 52% in 2019.
COMMITMENT #5: RESPECT FOR NATURAL SITES

RACE ROUTE : Thanks to our teams of volunteers, 100% of the course is cleaned a few hours after the last runner has passed
STARTING & FINISH ZONE : All our facilities (100% temporary) are dismantled at D+3.
COMMITMENT #6: OPTIMIZATION OF ENERGY EXPENDITURE

Lighting only during the day and evening, all lighting is switched off at night
Widespread use of Leds for lighting
COSEC space to retrieve race bibs is equipped with WIFI
COMMITMENT #7: ACCESS TO PERSONS WITH DISABILITIES

All our sites are accessible to people with disabilities
Our event is open to handi cart allowing people with disabilities to participate as a team at the Medoc Marathon.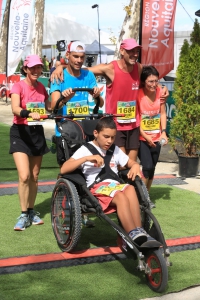 Collaboration with a Work Assistance Centre for the preparation of bottles (bedding) and posters offered to runners
Provision of disabled access in our various car parks
COMMITMENT #8: PROMOTING ACCESS TO DISADVANTAGED PEOPLE

We favour the recruitment of local temporary workers for the setting up and dismantling of the event with a local interim agency
COMMITMENT #9: NEW IDEAS TESTED EVERY YEAR

Thinking is underway to further reduce our waste
Willingness to give preference to allocations for runners coming from France and made with responsible materials
Desire to reduce the impressions related to the event each year by focusing on digital documents
COMMITMENT #10: PROMOTION OF ALL VOLUNTEERS

Friendly moments are organized throughout the year to thank and join our teams of volunteers
Highlighting the invaluable and indispensable help of our 3,000 volunteers in all our communications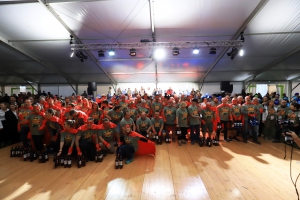 COMMITMENT #11: COMMITMENT TO A CAUSE OF SOLIDARITY

2 charities are selected by the organizers each year

Donation of € 8,000 to associations per year (€ 1 donated per runners) or € 4,000 per association
Provision of a stand on the marathon village the day before the event so that associations can present themselves and make animations/ awareness among spectators and runners.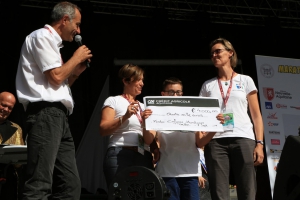 Opportunities for local associations to take advantage of the event to organize festive meals around the event

The local Rugby, football teams  organize festive meals on the quays of Pauillac to finance their actions
Local associations organize «the rural market» during the Sunday Walk. The profits are distributed by the municipality housing the gourmet village to the various associations.
COMMITMENT #12: PROMOTING GENDER PARITY

Runners: 32% of the participants in the Medoc Marathon are women, making the Medoc Marathon the most feminized marathon in France.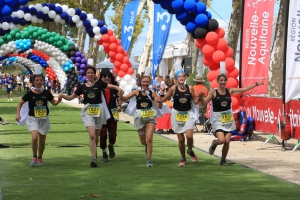 COMMITMENT #13: 1 REFERENCE "SUSTAINABLE DEVELOPMENT" in the organization

1 person member of the Board of Directors of the "Association du Marathon des Châteaux du Médoc" is in charge of "sustainable development" issues.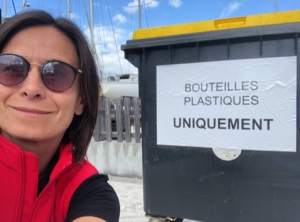 ENGAGEMENT #14: AWARENESS ACTIONS

Highlighting our actions on waste sorting on our communication media
Creation of a web page on our website dedicated to our responsible commitments.